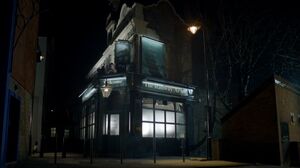 Another pub existed called The Railway Arms that was also owned by Nelson. This pub was a supernatural, omnipresent pub that served as a doorway to heaven for police officers who had been killed and had awoken in Gene Hunt's World. (A2A Series 3: Episode 8)
History
[
]
In 1980, Sam Tyler and his wife Annie accepted their deaths and went to the Railway Arms. His disappearance was covered up by Gene Hunt as a "death". (A2A Series 3: Episode 8). In 1983 Ray, Chris and Shaz also accepted their deaths after learning the truth about Gene's World. One by one they stepped into the doors and disappeared in a flash of light after saying their goodbyes to Gene and Alex. Until this point, Alex still hoped to try to get home to Molly but with the arrival of Keats, she finally realised that she had died in hospital and had been living out her last second all this time. Finally ready to accept her own death and never see Molly again, Alex passionately kissed Hunt and entered the pub.
Inhabitants
[
]
See also
[
]
The Railway Arms — The physical pub owned by Nelson in Manchester, 1973
Heaven — A more complex Wikipedia article on heaven.