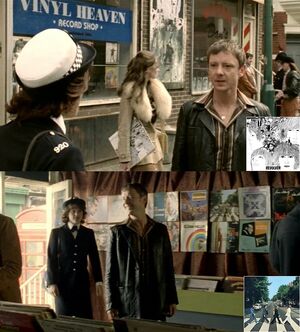 The Beatles are a British rock band, active from 1960 to 1970, who were often considered the most commercially successful and critically acclaimed act in popular music.[1] Despite splitting up officially and for good in 1973, the shadow of the Beatles' influence loomed over the music and culture of the United Kingdom.
In the record shop Vinyl Heaven, the Beatles albums including "Revolver" and "Abbey Road" were available to purchase among many other sixties records (LoM Series 1: Episode 1).
During the Kim Trent case, the song "Live and Let Die" by Paul McCartney (a former Beatle) was popular at this time (LoM Series 1: Episode 2).
As Sam recovers from his night with Joni Newton, Gene pointedly asks, "Was Lucy there? Did she have her diamond with her?" Gene is referring to the widely held belief that the Beatles song, "Lucy in the Sky with Diamonds" is an obscure reference to LSD. Although John Lennon used LSD, he always stated that the song was inspired by a drawing by his son, Julian (LoM Series 1: Episode 4). .
In 1981, the David Bowie song "Fame" which was co-written by John Lennon (another Beatle) was popular (A2A Series 1: Episode 7).
Though not directly mentioned in Life on Mars or Ashes to Ashes, several indirect Beatles references are made including the song "Live and Let Die" and the albums in Vinyl Heaven.
Community content is available under
CC-BY-SA
unless otherwise noted.