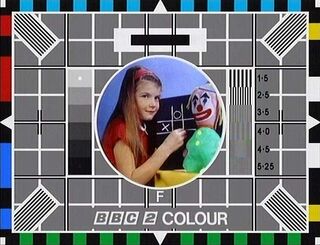 Test Card F is a BBC standard image that was in use during the time Life on Mars takes place. It is one of the best-known test cards ever used, and various versions of it are still in use today, by the BBC and by broadcasters in 30 other countries.
The card was designed by George Hersee and features his daughter Carole Hersee. It made its first appearance on BBC2 in 1967. By the time it was no longer in regular use, it had been shown for an estimated 70,000 hours. It is thought that Ms Hersee holds the record for the most TV appearances by a single person. Ms Hersee was born on 25 November 1958 and became a costume designer and mother of two.
The original design has changed over the years, including an electronic version in the eighties and an HD version. The key differences between the original and today's version are the labels for the frequency grating and the addition of a colour bar at the top.
The doll's name is Bubbles and is still owned by Carole Hersee.
The "X" on the noughts and crosses board was included to indicate the approximate centre of the card.
Carole Hersee at the Internet Movie Database
The Test Card Circle Details of the UK's Trade Test Transmissions including the history of the BBC and ITA Test Cards, a look at the music used and full details about the Trade Test Colour Films shown from the late fifties to 1973.
Revamped testcard - Daily Mail, 22 May 2007
Community content is available under
CC-BY-SA
unless otherwise noted.