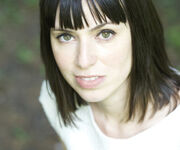 Montserrat Lombard (born August 1, 1982) is a British actress.
Lombard was born in London. She is half-Spanish and half-Italian. Her TV credits include regular roles in Love Soup, Roman's Empire and Ashes to Ashes in which she played WPC Sharon 'Shaz' Granger.
Other credits include guest roles in Doctors, Twisted Tales, Nathan Barley, Murder in Suburbia ("Witches", as a school girl named Myra who, among other things, bakes brownies and attempts to seduce her music teacher dressed in lacy underwear), Midsomer Murders, and a part in the feature-length ITV drama Tunnel Of Love, alongside Jack Dee. Lombard has also played Lavya in episodes Hello Queppu and Artefact of the BBC2 sci-fi comedy series Hyperdrive, and Stevie (the daughter of the main character Tommy) in the fourth episode of the BBC2 comedy Saxondale. She appeared as Lady Anne in the radio comedy The Castle.
Lombard has also appeared in several stage productions, including People Who Don't Do Dinner Parties, alongside Mark Stobbart. She also featured in an advert for the MINT Credit Card, where her "boyfriend" sneezed over her parents.
Lombard played June in the short film, Vanilla Song, created by National Film and Television School students, as well as Ian Sciacaluga's short film noir Imbroglio. She played The Muse in William Mager's 2008 short film Stiletto, funded by Apex Arts and the Hitchcock Production Fund.
She had a small role in Terry Gilliam's film The Imaginarium of Doctor Parnassus, playing a friend of the character Sally. In 2009, she was seen in the film St. Trinian's II: The Legend of Fritton's Gold, playing Zoe, the leading 'Emo'.
External Links
[
]
Montserrat Lombard at the BBC Ashes to Ashes site
Montserat Lombard plays WPC Shaz Granger aka "The Newcomer" - BBC Press Office
Montserrat Lombard at the Internet Movie Database