Luigi was the friendly Italian owner of "Luigi's Trattoria" near the Fenchurch East police station in the early 1980s. Like Nelson's pub, The Railway Arms in Manchester, Gene Hunt, DS Ray Carling, Chris Skelton and their colleagues often came to Luigi's to drink and dine after working hours in CID.
Biography
[
]
1981
[
]
While investigating the robbery of a corner shop, Hunt coerced Luigi to open his trattoria after hours to hold a small birthday party for 8 year-old murder witness Donny Cale. At the recommendation of Donny, he provided him with confectionery and soft drinks and went to bed upstairs. (Series 1: Episode 6)
Shortly after exiting the trattoria, charity fundraiser Gil Hollis fired several shots into the windows of Luigi's. To this, Hunt replied "I am not dying in a trattoria!" (Series 1: Episode 7)
1983
[
]
To protect comedian Frank Hardwick, DCI Hunt and DI Drake decided to take him to Luigi's in the early hours of the morning. Luigi was entertained by his comparison to an Italian doctor. Only hours later, DCI Litton threatened to kill Hardwick but eventually agreed to work with the team against DI Bevan who had betrayed both of them. (Series 3: Episode 5)
As Jim Keats's investigation moves towards its conclusion, Luigi gets some wonderful news from Italy. The death of his cousin in Battipaglia has left him with enough money to return home. (Series 3: Episode 7)
Relationships
[
]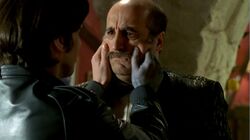 Luigi was fond of his neighbour and police officer DI Alex Drake as a friend and often provided her with a sauce (made using his mother's special recipe) which he did not serve to her colleagues ("Pearls before swine" according to Luigi). He also detected the attraction between her and DCI Gene Hunt and encouraged Hunt to pursue this to which he disagreed. Although he was an acquaintance, at times he was often the centre of DC Skelton and DS Carling's ethnic jokes to which he replied sarcastically.