Leslie George Scarman, Baron Scarman (also known as Lord Scarman) (29 July 1911 - 8 December 2004) was a judge and barrister. He also served as a Law Lord until he retired in 1986. In the final episode of series 1 of Ashes to Ashes, Lord Scarman made an appearance played by Geoffrey Palmer.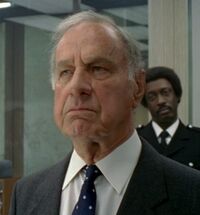 Preparation for Scarman's arrival
[
edit
|
edit source
]
On the previous day that DI Alex Drake's parents would die, Sergeant Viv James revealed that Lord Scarman would be arriving at the Fenchurch East police station for an inspection. Concerned that his Lordship would close down the station due to their everyday actions as police officers, DCI Hunt proposed to release all the prisoners from their cells and remove anything that would disappoint Scarman. To convince him that the cells in Fenchurch were not empty and that their prisoners were not illtreated, Hunt had DC Chris Skelton arrested for "waving his penis on the upper deck of the 159 bus".
When Lord Scarman arrived, he was immediately concerned when he noticed the presence of an under-14 girls netball trophy in the CID's trophy "collection" which had been filled when they cleaned up the office for Scarman's arrival. When Scarman was introduced to DC Skelton in his cell, he was appalled at Chris' false crime, but was pleased to discover that prisoners were not ill-treated (according to Chris). Scarman was appalled again when he discovered that his friends, barristers Tim and Caroline Price, had been arrested for the possession of narcotics (after DI Alex Drake had planted them to attempt to save their lives from the car explosion). Scarman's views had become even more negative towards Fenchurch East.
After spending the night in the same cell as DC Skelton and a dozen members of the Gay Liberation Front in the surrounding cells, Lord Scarman learned about the corruption and the sexual and racial discrimination towards different minorities from different men.
Final worlds and Departure from Fenchurch East
[
edit
|
edit source
]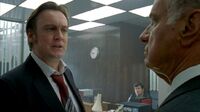 On the following day, Scarman left the cells and protested to Gene Hunt about their policing methods and their discrimination saying that "he would keep a beady eye on Hunt". DCI Hunt responded to Scarman with a speech stating that they are unbreakable even if he closed them down. Following this speech, the men of CID applauded in agreement and Scarman departed quite humiliated.
Community content is available under
CC-BY-SA
unless otherwise noted.