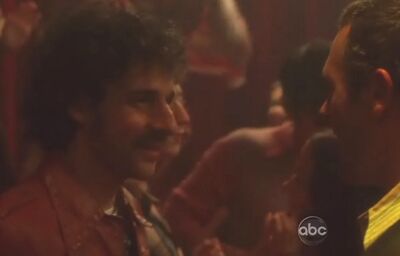 James Joseph "Jim" Croce (10 January 1943 – 20 September 1973) was an Italian-American folk singer and song-writer throughout the 1960s and the early 1970s, known for his singles "Bad, Bad Leroy Brown" and "Time in a Bottle". In 1973, he died in a plane crash.
While socialising with Annie Norris in the nightclub of Elliot Casso, Det. Sam Tyler accidently bumps into Jim Croce and tells him he was a huge fan of his and his song "Bad, Bad Leroy Brown" as a child. Tyler also warned Croce about his future death, which Croce dismissed by advising Tyler to "stay away from hallucinogens". (LoM US Have You Seen Your Mother, Baby, Standing in the Shadows?)
The scene between Tyler and Croce is similar to the scene in episode 4 of the original Life on Mars in which Sam Tyler meets Marc Bolan and warns him to drive carefully, especially in Minis. The real Bolan would eventually die in an accident in a Mini.
Ironically, the song "Get it on" by T-Rex plays in the following scene between Det. Tyler and Annie Norris (Marc Bolan was the founder of T-Rex).
Community content is available under
CC-BY-SA
unless otherwise noted.