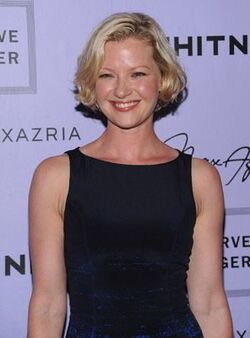 Gretchen Mol (born November 8, 1972) is an American actress. She plays Annie Norris on the American version of Life on Mars.
Biography
Edit
Early life
Edit
Mol was born in Deep River, Connecticut where her mother, Janet, is an artist and teacher and her father is a school teacher at RHAM.[1] She went to high school with Broadway actor Peter Lockyer. They performed in school musicals and plays together. Her brother, Jim Mol, is a director and editor in the film industry. Mol attended The American Musical and Dramatic Academy and graduated from the William Esper Studio. After summer stock in Vermont, she took a job for a while as an usher at Angelika Film Center. She was living in a Hell's Kitchen walk-up when she was noticed by a talent agent who spotted her working as a hat check girl at Michael's Restaurant in New York.[2] Mol's first acting job was in a Coca-Cola commercial.
Personal life
Edit
Interviewed by the Associated Press in Baltimore in December 2006, Mol commented about how she maintained her confidence as an actress: "It is an ongoing struggle. Confidence is something that sometimes you have and sometimes you don't. And the older you get, hopefully, the more you have some tools to at least fake it".[3] She married film director Kip Williams on June 1, 2004. Their first child, Ptolemy John Williams was born September 10, 2007.
Stage Work
Edit
Mol's acting career had its beginnings in summer stock in Vermont where she played a variety of roles including Godspell and 110 In The Shade [4]. She played Jenny in Neil LaBute's The Shape of Things on stage in both London and New York in 2001 [5], in a role she reprised in the film version, released in 2003. Of her work in the play (which he disliked),[6] the New York Times critic Ben Brantley wrote, "[Mol] gives by far the most persuasive performance as the unworldly Jenny, and you wind up feeling for her disproportionately, only because she seems to be entirely there, in the present tense." In 2004, Mol spent a year singing and dancing as Roxie in the Broadway production of Chicago.
In 1994, Mol was spotted by photographer Davis Powell [7]. He photographed her in New York's Central Park and replaced her unrepresentative portfolio with professional-looking black & white images which landed her on the cover of W magazine within weeks and foreshadowed her "It Girl" and "Bettie Page" looks. Shortly afterwards, she ended her brief modeling career and entered acting full time.
Film career
Edit
In 1998, she appeared in several notable films including Rounders, starring Matt Damon and Woody Allen's Celebrity opposite Leonardo DiCaprio. It was in 1998 that she also came to prominence and notoriety when she was featured on the cover of Vanity Fair magazine. Her appearance was both a triumph and a failure -- it brought her great attention, but her movies bombed. Dubbed the "It Girl of the Nineties" by the magazine, her career did not live up to the hype. Her early success was not sustained and she faced several lean years before a notable comeback with The Notorious Bettie Page in 2006.
While major roles have been sporadic, Mol has been in more than thirty feature films. And though the films have often been small, she has worked for a number of important directors. Her first role came in Spike Lee's 1996 film, Girl 6. She said, "I was auditioning for Guiding Light and I was happy I got a Spike Lee movie, which was a tiny part, but all of a sudden I had Spike Lee on my resume. I didn't audition for day player anymore".[8]
New York filmmaker Abel Ferrara took notice and cast her in two movies, The Funeral (1996) and New Rose Hotel (1998). She had a small role in Donnie Brasco (1998). By now, she was being typecast as "the girlfriend," which she attempted to change opposite Jude Law in Music From Another Room (1998), a romantic comedy. Unfortunately, no one noticed the film.[9]
For her second film with Woody Allen, 1999's Sweet and Lowdown, she played a minor role which the Greenwich Village Gazette called "notable".[10] She played the victim of a con in the 2003 film, Heavy Put-Away based on the Terry Southern story. In 2006, she shared the lead in a romantic comedy, Puccini for Beginners, in which her character has a lesbian affair.
Mol worked with Mary Harron for two years as the director struggled to finance The Notorious Bettie Page: "I kind of felt like I lived with it for a while; certainly not as long as Mary Harron did but I got a good chance to really feel like I knew something about Bettie so by the time the role was mine and I was on set I was pretty confident. I felt like I really worked for it".[11]
The year 2007 was one of her busiest, with four films in production or in release. They include a remake of 3:10 to Yuma starring Russell Crowe, and Bay of Pig in which her character, Catherine Caswell, has an affair with John F. Kennedy.
In April 2008, she began filming Tenure in Philadelphia, working opposite Luke Wilson and Andrew Daly.[12]
Television
Edit
Mol had a small role of Maggie Tilton in the 1996 miniseries Dead Man's Walk, based on the Larry McMurtry novel. She also was in a few episodes of Spin City.[13] She was the star of the short-lived David E. Kelley series Girls Club (2002), a drama about three women lawyers. The series was not well received and it was canceled after two episodes.
She appeared in two TV remakes of classic films: Picnic (2000), in the role of Madge Owens, and The Magnificent Ambersons as Lucy Morgan (2002). She made a Hallmark Hall of Fame television movie in January 2007, starring in The Valley of Light, a story set in post-World War II based on a novel by Terry Kay.[14] It was her second Hallmark production. She had a minor role in Calm at Sunset in 1996.[15]
She played Norah in The Memory Keeper's Daughter which aired in the U.S. on The Lifetime Channel in the U.S. in April 2008.[16]
She is currently playing Annie in Life on Mars (American). The U.S. remake of the British show Life on Mars (British), it started airing in the U.S. in September 2008.
Filmography
Edit
Year
Title
Role
Notes
1996
Girl 6
Girl #12
Dead Man's Walk (TV mini-series)
Maggie
The Funeral
Helen
Calm at Sunset (TV)
Emily
1997
Donnie Brasco
Sonny's girlfriend
The Last Time I Committed Suicide
Mary Greenway
Subway Stories: Tales from the Underground (TV)
The Wife (segment "Love on the A Train")
The Deli
Mary
1998
Too Tired to Die
Capri (uncredited)
Celebrity
Vicky
Rounders
Jo
Finding Graceland
Beatrice Gruman
New Rose Hotel
Hiroshi's Wife
Music From Another Room
Anna Swan
Bleach
Gwen
1999
The Thirteenth Floor
Jane Fuller / Natasha Molinaro
Cradle Will Rock
Marion Davies
Sweet and Lowdown
Ellie
Forever Mine
Ella Bryce
Just Looking
Hedy
2000
Picnic (TV)
Madge Owens
Attraction
Liz
Get Carter
Audrey (uncredited)
2002
The Magnificent Ambersons (TV)
Lucy Morgan
Girls Club (TV series)
Lynn Camden
Freshening Up (TV short)
Jannelle
2003
Heavy Put-Away
Mary
The Shape of Things
Jenny
2006
The Notorious Bettie Page
Bettie Page
Puccini for Beginners
Grace
2007
The Ten
Gloria
The Valley of Light (TV)
Eleanor
Trainwreck: My Life as an Idiot
Lynn
3:10 to Yuma
Alice Evans
2008
The Memory Keeper's Daughter
Nora Henry
Boy of Pigs
Catherine Caswell
awaiting release
2009
Tenure
Elaine Grasso
filming
References
Edit
External links
Edit
Community content is available under
CC-BY-SA
unless otherwise noted.