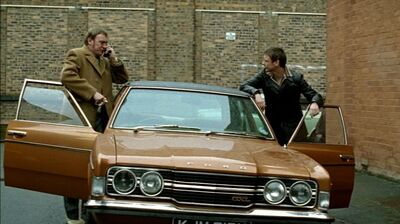 The Ford Cortina TC Mark III GXL (referred to simply as the Ford Cortina) was the Grand Xtra Luxury version of the third generation Ford Cortina series. It was produced from 1970 to 1976.
Generally, the Cortina was Ford's gem. When the First Generation came along in 1962 It changed Ford's humble brand image, it was an affordable luxury car that was economical,cheap to run and cheap to build in the U.K. it was sold for 20 strong years with five different generations until 1982 when it was replaced by Uwe Bahnsen's radical, unpopular Sierra.
In 1973, a Ford Cortina Mark III GXL was owned by Gene Hunt, which he regularly used to travel around Manchester. In 1980, his Cortina was replaced by the Audi Quattro when he and his team transferred to the Fenchurch East division of the Metropolitan Police.
The car had a certain emotional value to Hunt, as emphasised by his threat to a group of youngsters to "come round your house and break all your toys" if anything happened to it while he was away. Whatever his own state of health, he was not inclined to let anyone else drive the car.
The following anachronisms were revealed in an episode of Top Gear during an interview with Philip Glenister:
The spoiler of the Cortina would not be made until 1975.
The vinyl roof was only available on the 2000E version of the Cortina.
Vinyl roof was available on the GXL model.
The car used in Life on Mars had the wrong dashboard for a GXL. It used one from the later model.
The car used was a Ford Cortina 2000E with a GXL grill and headlights, the dash was wrong on the car, the GXL dash was sloping
Nick Fensome comments:
The Cortina used was a bitsa (bits a this, bits a that). The car was actually a 1974 2000E,  but as Sam Tyler was supposed to have to have first met Gene in early 1973, it was too early for a 2000E, which was not on sale until September. A GXL grill and quad headlights were fitted, as well as the dash from a facelift early '74 model, but still wrong, as a 72 K reg would have had the deep-dished clocks and early dash. There were three cars used in filming: one for close-ups, one for stunt work (believed to have been a 1600), and the hybrid 2000E/GXL. 
In aid of Comic Relief, the Cortina used in the two series of Life on Mars was sold on eBay for £10,000.
Community content is available under
CC-BY-SA
unless otherwise noted.