Fire Up the Quattro (also known as Top Gear Meets Ashes to Ashes) is a non-canon mini-episode of Ashes to Ashes made for Children in Need 2008. It guest starred (then) Top Gear presenter Richard Hammond as himself.
Plot
[
]
While admiring the Audi Quattro in 1981, Richard Hammond is caught on the scene by DCI Gene Hunt and demanded to raise his hands in the air. After revealing his admiration for the car, he asks politely for a test drive which Hunt reluctantly agrees to after discovering Hammond co-hosts a car show "with two other blokes" and that his nickname was "Hamster" due to his height and name. Hammond gets behind the wheel and "Jessica" by the Allman Brothers (which is also the Top Gear theme) plays as he slams the Quattro into reverse. He then pulls off two smooth J-turns, then pulls alongside DI Alex Drake and invites her to join and "meet the Stig". Due to Hammond's expert driving skill, Drake agrees and Hunt walks away humiliated, telling DC Chris Skelton to shut up.
Cast
[
]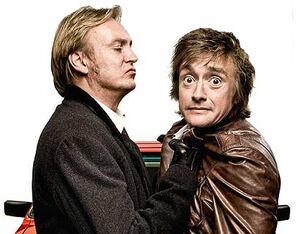 .
Canonicity
[
]
This episode is non-canon because behind DCI Hunt, DI Drake, DC Skelton and DS Carling are cars and vans that would not be made until the 21st Century. It is also non-canon because Hammond refers to the 2002 format of Top Gear which DI Drake recognises as a programme of "boys with their toys".
Appearances
[
]
Characters
Dramatis personae
Other characters
Locations
London car park

(First appearance)
Organisations and titles
Vehicles
Miscellanea
The Manc lion

Hamster

Jeremy Clarkson

(Mentioned)

James May

(Mentioned)

The Stig

(Mentioned)

Pudsey Bear plush toy
Music
[
]
The Allman Brothers — Jessica
Trivia
[
]
See also
[
]
External Links
[
]