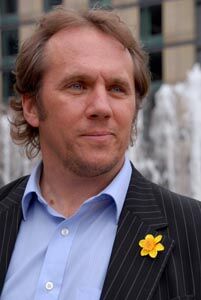 Dean Andrews (born 1963 in Rotherham) is an English actor.
He is most famous for his role as DS Ray Carling in both series of the cult BBC Television drama series, Life on Mars in 2006 and 2007. He continued the role in the show's 2008 spin-off Ashes to Ashes.
Early life
[
]
Born in 1963 in Rotherham, South Yorkshire, Andrews went to Sitwell Junior school on Grange Road and Oakwood Comprehensive School (now called Oakwood Technology College) on Moorgate Road. He went to school with Top Gear presenter James May [1]. His parents were publicans and he lived at the The Masons Arms on Wellgate and the Green Dragon in Kimberworth. He belonged to the local Phoenix Amateur Operatic Society. He began work at Kirkby Central, a Vauxhall car dealership, in Wellgate, then began singing at holiday resorts such as Skegness, and on cruise ships over twenty years. His entry into acting came when successfully auditioning for the 2002 film, The Navigators, which was set in Sheffield.
Career
[
]
Dean Andrews was a professional singer for 20 years before starting his acting career. After his appearance in The Navigators by Ken Loach, Andrews has been working continuously in film and television, including his role as Ray Carling in Life on Mars and Ashes to Ashes.
In 2005, Andrews played the character of Steven Maynard in the ITV drama Wire in the Blood. In 2007, he appeared in the BBC dramas True Dare Kiss and The Street.
In 2010 he appeared in the Oscar-nominated short film, Wish 143. It tells the story of a 15-year-old boy with only months to live, who is granted one final wish from a charity. But instead of visiting Disneyland or meeting Gary Neville, David dreams of spending an hour alone with a naked woman.
Post Ashes, his longest run has been on Last Tango in Halifax as Robbie.
Personal life
[
]
Dean Andrews lives in Rotherham with his partner, Helen Bowen-Green, and has two daughters (born c.1985 and c.1991). He supports his local football team, Rotherham United. He also enjoys watching rugby league.
References
[
]
External links
[
]