Colin Raimes was the suspected murderer of Lauren Chester and Bettina Mitchell identified by DCI Sam Tyler in 2006.
Prior to 1973, Colin Raimes lived on Kennel Road near Satchmore Road in Manchester with his grandmother Mrs Beryl Raimes. As a child, he enjoyed an expensive brand of pink wafers which his grandmother occasionally bought for him. He also became fond of his neighbour Edward Kramer.
In 1973, he was present at the arrest of Edward Kramer who had been arrested for the murder of Suzi Tripper and the abduction of Dora Keens. As Kramer was driven away in a police car, he waved to Colin and he waved back. (Series 1: Episode 1)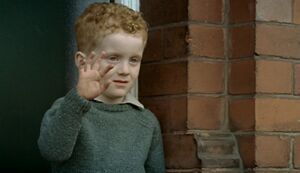 Later in his life, he began to suffer from schizophrenia and he became a fantasist, which is evident in his diary.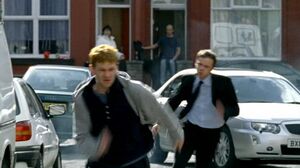 On 3 November 2005 and in 2006, Lauren Chester and Bettina Mitchell were murdered by persons unknown and Raimes became a suspect. On the same day that he was involved in a car accident, DCI Sam Tyler pursued Raimes who was attempting to escape through the back door of his house. He was caught and arrested and later interviewed by Tyler who quoted exerpts from Colin's diary where he brags about being an "ace killer". The interview ended abruptly when Tyler mentioned the night of the abduction, November the second. Raimes's social worker pointed out that Raimes was at a drop-in centre that night. He was released, but was followed by Tyler's colleague Maya Roy who believed that Colin knew more than the police expected. While driving onto Satchmore Road near his house, Maya was kidnapped by the real murderer who remains unknown, however Sam in the limbo world of 1973 believes it to have been Edward Kramer, who, because of his mental problems, instead of being sent to prison for life for his crimes in 1973, was instead sent to a mental institution and released in time to have killed again in 2006. Sam also believes that he has prevented this from happening by disposing of evidence of Kramer's insanity, causing him to be sent to prison for life and not a mental institution, and thus changing the future.
Community content is available under
CC-BY-SA
unless otherwise noted.