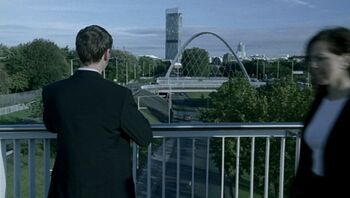 The year 2007 was the 7th year of the 21st Century and the 3rd Millennium.
Events
[
]
Regaining Consciousness
[
]
Sam Tyler's prolonged coma had continued through the remainder of 2006 and into 2007. In April 2007, Tyler regained consciousness in Room 2612 in Hyde Ward of a Manchester hospital.
Following his awakening, he underwent psychiatric evaluation and (offscreen) was debriefed by police psychiatrist DI Alex Drake of the Metropolitan Police Service. (A2A Series 1: Episode 1)
Death of Sam Tyler
[
]
After his evaluation, Tyler rejoined the Greater Manchester Police feeling emotionally empty, in large part due to the regret of an unfulfilled promise he made to WDC Cartwright in 1973. Possibly hoping to return to 1973, Tyler committed suicide by jumping off the Stopford House police station roof. Following his "death", Sam Tyler returned to 1973 where he spent the remainder of his "afterlife" with his respected colleagues. (LoM Series 2: Episode 8) In the end, Sam went to "the pub" with his colleagues. (A2A Series 3: Episode 8)
Real World
[
]
Music
[
]
The following songs were heard in 2007 in Life on Mars:
Israel Kamakawiwo'ole - Over the Rainbow