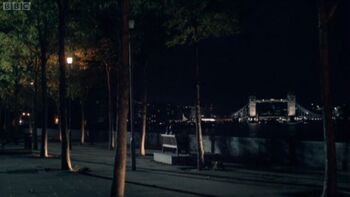 The year 1983 was the 83rd year of the 20th Century and the 983rd year of the 2nd Millennium. It was the most prominent year featured in Series 3 of Ashes to Ashes.
Events
[
]
Arriving in 1983
[
]
After being accidentally shot by Gene Hunt in 1982, Alex was plunged into another coma (in Gene Hunt's World) while waking up from her original coma in 2009. Hunt was forced into exile, fleeing to the Isle of Wight and then the Costa Brava, Spain after people accused him of shooting Drake on purpose. When slapped by Gene, Alex woke up in February 1983 from her coma in that world.
Operation Countryman
[
]
Shortly after DI Drake recovered from her coma, DCI Jim Keats arrived at Fenchurch East police station and revealed how he was sent to assess Fenchurch East as part of Operation Countryman.
Politics
[
]
1983 was an important year for the United Kingdom, as the country was holding the 1983 General Elections. With over 13 million votes, and riding the crest of a wave of patriotic fervour in the wake of the Falklands conflict, Conservative leader Margaret Thatcher won the vast majority of votes and would continue as Prime Minister for another seven years. The pit closures and similar measures were also building tensions, which would erupt in the miners' strikes of 1984-5. (A2A Series 3: Episode 3)
Music
[
]