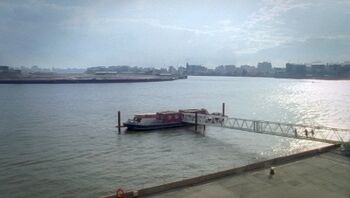 The year 1981 was the 81st year of the 20th Century and the 981st year of the 2nd Millennium. It is the most prominent year featured in Series 1 of Ashes to Ashes.
After being shot by Arthur Layton in 2008, DI Alex Drake awoke on 20 July 1981 on a drugs-filled party boat in Blackwall, London. When the party was crashed by DCI Gene Hunt and his colleagues, Drake was escorted to the Fenchurch East police station, where she discovered that she was working as a DI under Gene Hunt, similar to DI Sam Tyler who died the previous year.
On 10 October 1981, Alex's parents died in Evan White's Ford Escort. The bomb was set by Tim Price who was supplied by the bomb expert Arthur Layton in a suicide attempt after discovering the affair between his wife Caroline and their good friend Evan White. The bomb was triggered by a cassette tape which played the song "Ashes to Ashes" by David Bowie - a song favoured by Layton. Though Alex attempted to stop this, she failed but discovered more about the explosion. (A2A Series 1: Epiosde 8)
At the age of 12, Sam Tyler was in a coach when it was involved in a crash. Nobody was seriously injured; however, Sam broke his arm and was forced to spend a few days in hospital. Since Tyler was born in 1969, 1981 would be the year of the incident. (Series 2: Episode 8)
Community content is available under
CC-BY-SA
unless otherwise noted.