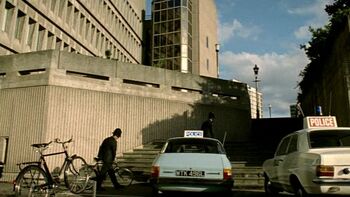 The year 1973 was the 73rd year of the 20th Century and the 973rd year of the 2nd Millennium. It is the most prominent year featured in Life on Mars (UK).
Events
[
]
Background
[
]
After being sent into a coma by a high-speed hit-and-run in 2006, DI Sam Tyler found himself in 1973 working for DCI Gene Hunt. Even though he managed to get back to the 21st century, Sam discovered that he felt empty in the present day and threw himself off the roof of his police HQ, in order to return to the seventies. From then onwards, Sam continued working with Gene and the team until his own eventual 'death' in 1980 in that timeline.
Music
[
]
The following songs were heard in 1973 in Life on Mars:
NB An interesting, and rather glaring, omission from the list is Slade's Merry Xmas Everybody, first released in 1973 and reissued many times since during holiday seasons.