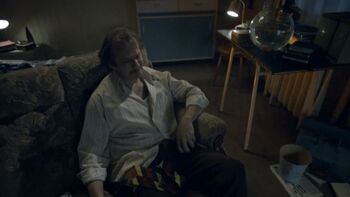 The year 1972 was the 72nd year of the 20th Century and the 972nd year of the 2nd Millennium.
In reality, Ray Carling was not a Detective Sergeant but a Detective Constable of a local constabulary in the year 1972. After failing basic army training and feeling ashamed in the shadow of his father and grandfather, Carling turned to alcohol. When he became drunk, he beat up a young man, which was covered up by his DCI. Overwhelmed by guilt, DC Carling hanged himself during the FA Cup Final on 6 May. He awoke in Gene Hunt's World prior to 1973 where he would be promoted to Detective Sergeant. (A2A Series 3: Episode 8)
Community content is available under
CC-BY-SA
unless otherwise noted.